Rescue efforts organised in Britain and Germany
The Kindertransport was not a government scheme but run by several charitable organisations in Britain and Germany that came together to make the transports to Britain possible. Everything happened in great haste and rather improvised. Later on the rescue effort for Jewish children became known as "Kindertransports" after the German word for children "Kinder".
On November 21 1938 the British parliament decided to accept an unspecified number of children under Nazi persecution into Britain. It was up to various charitable organisations to guarantee their upkeep so that no costs would fall onto the state.
The humanitarian organisations who carried out the groundwork for this were:
The Central British Fund (founded in 1933 by Anglo-Jewish community leaders in response to Hitler's rise to power);
The Children's Inter-aid Committee united Christian and Jewish organisations to help refugee children; and
hundreds of Jewish and Christian organisations on national and regional level joined in.
What does Harry Bibring remember about the organisation of the Kindertransport? Why would the memory of the work done by the Jewish Community in Vienna be less present in his memory?
© National Holocaust Centre and Museum
In Germany the transports were organised by Reich Representation of German Jews, the self-help organisation representing the interests of German Jews under Nazi persecution since 1933.
The Jewish Community in Vienna undertook the organisation for Austria. In Czechoslovakia it was mainly the group with Harry Winston who organised the transports.
From a child's perspective it was not so much the organisation of the transports that mattered. Of far greater relevance was the question: What pushed their parents over the edge? What had led them to send their children to a foreign country? Ellen Rawson reflects on this fateful moment.
© National Holocaust Centre and Museum
Travel documents
Extraordinarily the British government agreed to admit the unaccompanied children without visa to England. There was an understanding though that they would eventually transmigrate to another country or return home once the situation was safe. The initial agreement between the British government and the Inter-Aid Committee for children therefore stipulated that children should not stay longer than two years.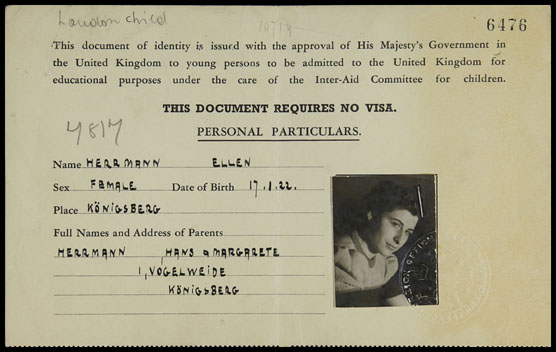 This is Ellen Rawson's entry paper to Britain. What is the purpose of her stay?  Considering its purpose, what is the maximum time Ellen could have hoped to stay in Britain? Who was responsible for her during her stay? What part did the British Government play?
© National Holocaust Centre and Museum
In the aftermath of the world economic crisis it was important to the British government that the children would not work and put pressure on the British labour market. However the public outrage at the November Pogrom also meant that many British people wanted to help – at least the children.
No matter how rushed an improvised the rescue efforts were and how difficult life as a child refugee would become. The "Kinder" certainly appreciated the heroic effort of what were basically government endorsed private initiatives that brought 10,000 children out of acute danger. The testimony of Bernard Grunberg reflects this overwhelming sense of gratefulness.
© National Holocaust Centre and Museum
The National Holocaust Centre and Museum | Charity no: 509 022